Bert Williams Companion Page
Who was Bert Williams?
Egbert Austin Williams was a silent film actor who was active in the earliest years of the film industry.  Williams was born in Nassau, Bahamas in 1874 before his family moved to the United States, eventually settling in Riverside, California in the greater Los Angeles Area where he would go on to graduate from Riverside High School. (Sampson, 1997)  It was there where he got into acting, joining a number of west coast minstrel shows when he was just a teenager. (Sampson, 1997)  Williams would go on to partner up with George Walker in 1893 becoming, along with Walker one of the most famous black performers in the world (Public Broadcasting Station , 1998).
Williams and Walker toured all over the world appearing in hit show after hit show.  Their most notable shows  were the groundbreaking  In Dahomey, the first ever black lead show on Broadway (Sotiropoulos, 2006), Abyssinia an elaborate play that Williams co wrote that included Williams biggest hit song Nobody.
Williams went on to break more barriers in 1909 after syphilis rendered George Walker unable to perform when he became the first black performer to be offered a spot in the prominent Zeigfield Follies troop, which never had a black performer at the time (Charters, 1970).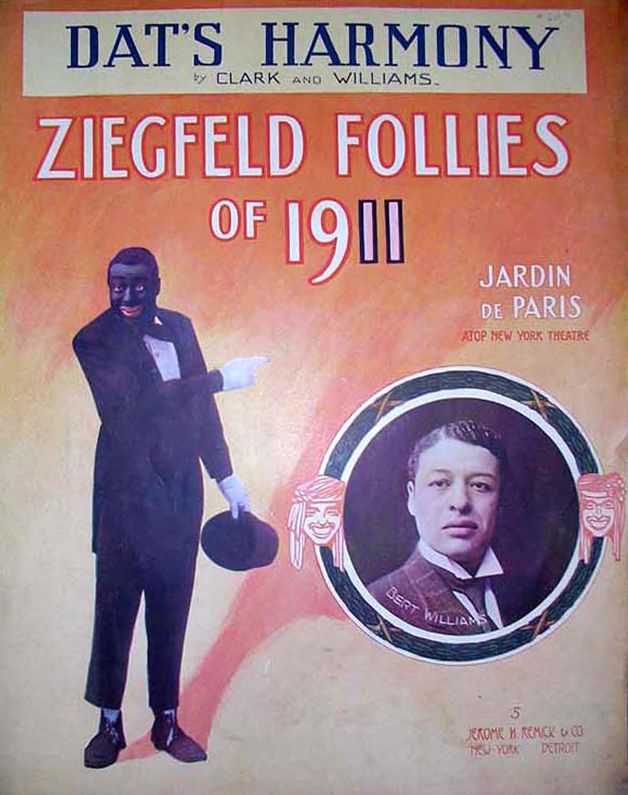 Here is a song that he performed with Zeigfield:
Zeigfield's signing of Williams was highly criticized by the public because of the racism that was the norm at the time. He was subject to frequent abuse offstage travelling with the troop due to the prevailing racism, but he persisted nonetheless receiving rave reviews, retaining his status as one of the most visible black people in the world during the first two decades of the 20th century. His last performance with Zeigfield occurred in 1919. He died three years later after collapsing on stage.  He was 47 years old.
Williams' Impact
Williams was a groundbreaking performer in a number of different ways, he was a talented actor and singer who was able to play a number of instruments and wrote comedy bits.   He was well-regarded enough to be one of the highest paid performers in the world despite the disregard the public had for black performers. (Brooks, 2004) He was one of the first black performers to earn mainstream fame acting and doing comedy performing at a time when black actors were excluded from many roles.
Williams frequently found himself in the crosshairs of critics for his (at the time) unconventionally ambitious productions as well as his refusal to kowtow to established limitations on what black performers were expected to depict in productions.
Abyssinia, Williams and Walker's smash hit for example, was maligned by critics for being a large intricate production that was so epic that it even included live camels and lush sets and a love story.  The show was criticized, not for its quality, but for being too complex and nuanced at a time where black performers were expected to play slaves on the plantation and sing simple songs.  It was also criticized for having a love story involving black performers was completely unacceptable at the time  (New York Evening Post, 1906).
Williams and his cohorts didn't care about being criticized for not playing to black stereotypes.  His partner George Walker opined about Abyssinia
It's all rot, this slapstick bandanna handkerchief bladder in the face act, with which negro acting is associated. It ought to die out and we are trying to kill it.
 Williams and Walker actively set out to erase negative black stereotypes and reshape the way black people were portrayed in popular culture, a struggle that exists to this day.
Performing in Blackface and Fighting for Human Rights
Bert Williams performed in shows and films wearing blackface, which is widely accepted to be utterly disrespectful to Black people today, but expected of performers at the time if they wanted to receive any kinds of roles.  While Blackface performances did demean black people by invoking negative stereotypes Williams wrote his comedy in a way that subtly subverted the status quo by playing up the absurdity of blackface and the stereotypes that accompanied it (Forbes, 2008).
While Bert Williams' subversion of the status quo may have been subtle onscreen and on stage, his fight for civil rights and defiance in the face of white supremacy behind the scenes was very real.  Legendary Civil Rights pioneer Booker T. Washington once wrote of Williams:
He has done more for our race than I have. He has smiled his way into people's hearts; I have been obliged to fight my way.
Williams made it a point to hire black performers, stage hands and production assistants whenever he can, and he also made it a point to pay them above market value as a way to empower black people in show business (Charters, 1970).
Bert Williams was a proud pioneer who had accomplished what no other African American performer had ever accomplished at the time, while facing immense discrimination and racism.  Not only did he maintain his dignity throughout all the abuse that he was subject to, he never forgot his Bahamian roots being quoted after performing for King George III in 1903:
It was the proudest moment of my life … to appear before my sovereign, for I am British born, hailing from The Bahamas.
Bert Williams expanded the bounds of what could be accomplished by minority performers in film and on stage and every minority singer, songwriter, actor, dancer and comedian, from Denzel Washington to Michael B. Jordan, from Beyonce Knowles to Dave Chapelle, from Sidney Poitier to Josephine Baker wouldn't be what they are if not for the genius of one man who was born in Nassau, Bahamas.
 Lime Kilm Field Day
Lime Kilm Field Day staring Bert Williams is believed to be the earliest surviving film with an all black cast. (Lee, 2014).  About an hour of footage was shot before the film was scrapped in post production, locked away and forgotten for over a century until it was rediscovered in 2014 and deemed "Historically Significant" by the Library of Congress (MOMA, 2016).
AMMC is proud to host a screening of the film at Galleria Cinemas' Mall at Marathon location on February 20th-23rd.
Works Cited
Brooks, T. (2004). Lost Sounds: Blacks and the Birth of the Recording Industry. Champaign IL: University of Illinois Press.
Charters, A. (1970). Nobody, The Story of Bert Williams. London: The McMillan Company.
Lee, F. R. (2014, September 20). Coming Soon, A Century Late: A Black Film Gem. Retrieved January 20, 2017, from The New York Times: https://www.nytimes.com/2014/09/21/nyregion/coming-soon-a-century-late-a-black-film-gem.html?module=Search&mabReward=relbias%3Ar%2C%7B%221%22%3A%22RI%3A5%22%7D
MOMA. (2016). 100 Years in Post-Production: Resurrecting a Lost Landmark of Black Film History. Retrieved January 18, 2017, from The Museum of Modern Art: https://www.moma.org/calendar/exhibitions/1478?locale=en
New York Evening Post. (1906, Februrary 21). New York Evening Post , p. 7.
Public Broadcasting Station . (1998). Broadway: An American Musical . Retrieved January 20, 2017, from PBS's website: http://www.pbs.org/wnet/broadway/stars/bert-williams/
Sampson, H. T. (1997). Blacks in Black and White: A Source book on Black Films. New Jersey: The Scarecrow Pres Inc.
Sotiropoulos, K. (2006). Staging Race : Black Performers in Turn of the Century America. Cambridge, MA: Harvard University Press.